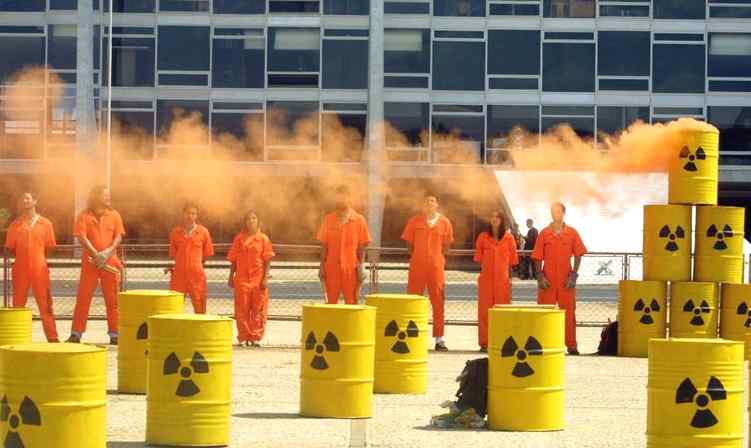 January 14, 2008
http://www2.irna.ir/en/news/view/menu-239/0801147777142419.htm
The British government's decision to build a new generation of nuclear plants will do little to replace the country's dependence on oil and gas, according to environmentalist group, Greenpeace.
"Nuclear power is an almost irrelevant response to our fuel dependency," said Greenpeace executive director John Sauven, pointing out that plants only supply electricity.
"Most of the gas we use is for heating and hot water, or for industrial purposes," Sauven said. "Almost all oil is used for transport - nuclear power can't take its place either," he said.
In a letter to the Guardian newspaper Monday, he said that as much as 86 per cent of Britain's oil and gas consumption is for purposes other than producing electricity.
The warning comes after the British government gave the go ahead for the building of up to 10 new nuclear plants, arguing that they were "intended to provide Britain with energy security by reducing dependence on imported gas and oil."
But Greenpeace, which is opposed to the plans on grounds of safety and the massive costs, warned that "nuclear power, which only supplies electricity, cannot replace that energy."
The environmentalist group said it was working instead for energy efficiency, cleaner and more efficient use of fossil fuels, renewables and decentralized energy.
"Together they can deliver reliable low-carbon energy quicker and cheaper. They are also safer and globally applicable, unlike nuclear," Sauven said.
The Green Party, which is also against the nuclear option, is arguing that the government's own figures show that there is the potential to save more than 30 per cent of all energy used in the UK solely through energy-efficiency measures.
"About two-thirds of the energy used in electricity generation from large, centralized power stations is wasted before it ever reaches our homes, and by itself accounts for a full 20 per cent of UK CO2 emissions," said the party's principal speaker Caroline Lucas.
Lucas, who is a member of the European parliament also told the Guardian that that "combined heat-and-power stations, which capture and use-waste heat, must have a crucial role to play, alongside investment in renewables."