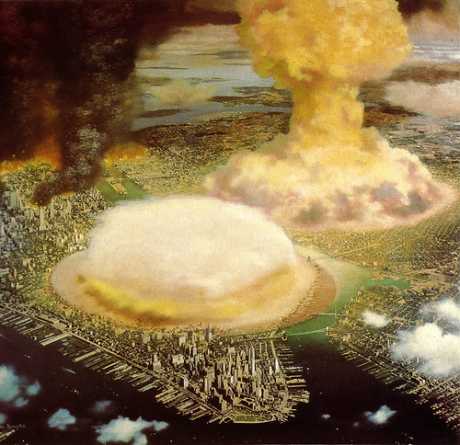 January 5, 2008
http://www.upi.com/International_Security/Emerging_Threats/Briefing/2008/01/04/nuclear_terrorism_top_fear_survey_says/2342/
REDWOOD CITY, Calif., Jan. 4 (UPI) -- A survey by the non-profit Saga Foundation, based in California, says nuclear terrorism is the top fear for Americans.
The nationwide survey conducted in a series of focus groups for the Saga Foundation by Luntz, Maslansky Strategic Research found that the top fear for 74 percent of those surveyed is the belief that a terrorist strike within the United States is likely to happen. Forty percent of that number say the attack will involve a nuclear device.
Officials say the survey indicates that the fear of another successful terrorist attack scares 35 percent of Americans more than other potential threats including economic recession, global warming or disease pandemic among others.
"Nearly 50 percent of Americans fear al-Qaida acquiring a nuclear bomb more than they fear states that already have the bomb, including potential rogue nations with nuclear ambitions such as North Korea and Iran," the release said.
"We need to challenge those charged with our safety and security to take immediate action, both inside and outside Washington," Saga Foundation President David Bartoshuk said in a statement. "Our future depends on standing up, speaking out and pressuring those responsible to put aside partisan politics and accomplish the job of protecting America. It is time to demand that we close the gap between what needs to be done and what has been done so far to avoid a nuclear Sept. 11."