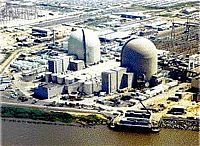 January 01, 2008
http://www.nj.com/news/sunbeam/local/index.ssf?/base/news-3/1199164201193600.xml&coll=9
LOWER ALLOWAYS CREEK TWP. The Salem 1 nuclear reactor here remained off line Monday after it automatically shut down early in the weekend because of a transformer problem, according to the plant's operator.
Salem 1 one of three reactors at the Artificial Island nuclear generating complex shut down at 5:55 p.m. Friday, according to the plant's operator, PSEG Nuclear.
The failure of the power transformer resulted in two of the reactor's cooling pumps going off line, according to the Nuclear Regulatory Commission, the federal agency which oversees nuclear power operations.
PSEG said the plant would be returned to service once the electrical issue with the transformer is resolved. As of Monday afternoon the plan remained off line.
The NRC was notified of the problem by PSEG, according to NRC Spokesman Neil Sheehan.
NRC inspectors went to the control room and followed PSEG's troubleshooting activities throughout the weekend.
According to Sheehan, Friday's shutdown was the third unplanned trip at Salem 1 in the last four quarters.
If the reactor has more unplanned trip on or before March 31 it will result to additional oversight of Salem 1 from the NRC, according to Sheehan.